Some High Scoring Gridiron Action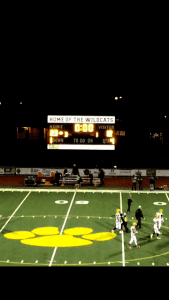 Sonora Wildcats final scoreboard

View Photos
Mother Nature gave us a break in the rain for the Wildcats to continue their undefeated run beating Argonaut 23-12.
Sonora's Josh Harris opened the scoring in the first quarter with an 8 yard rush and then threw a bullet to Gino Bergamaschi for a 2 point conversion.  Josh Harris then threw a pass to Kane Rodgers that most were sure was overthrown until Rodgers put it in another gear and closed the gap, grabbing a 78 yard touchdown. Gino Bergamaschi had another amazing grab for a 2 point conversion.
Argonaut scored on a 48 yard touchdown, but their 2 point conversion failed and the score going into halftime was Sonora 16 and Argonaut 6.
In the second and third quarters the two teams stood toe to toe and threw heavyweight punches, but no one was able to score any points.
In the fourth quarter, Sonora capped a big drive ending with a Jack Camara 1 yard touchdown run. Argonaut added a 19 yard touchdown toward the end of the quarter and failed on the conversion attempt. Argonaut was unable to add any more points and the Wildcats came out winners against Argonaut with a final score of 23 to 12.
The Sonora High Wildcats travel to Angels Camp next week to take on the Bret Harte Bullfrogs.
Summerville's woes continued in a cloudy night down in Calaveras. A 41-7 loss was not the Sean Leverose game plan by any means. The only seven points struck late into the third quarter after the Bear's Luke Fulkerson out ran multiple defenders all the way to the end zone for a 90 yard touchdown, the longest of his career. But when it comes to talking about running, the ground game was dominated by Calaveras star back Noah Preuss. Preuss' three touchdown performance was more than enough to lead big red over the Summerville. Calaveras, at 7-2, already clinched a playoff spot and are gearing up for post season action. For the Bears they sit at 4-5 and will not make the playoffs for the second straight year. Summerville finishes up the season next week in Amador.
Bret Harte jumped over Linden 55-7.
*Brandon Steele and Mark Ferreira contributed to this report