Calaveras County Offering Sand Bags For Weekend Storm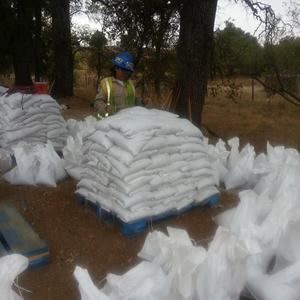 Sand Bags In Calaveras County

View Photos
San Andreas, CA — With rain being forecast into early next week, Calaveras County has stocked up on sand for residents that may need to shore up their property to prevent flooding.
Noting that the best time to install sand or gravel bags is before the rain starts falling, county spokesperson Sharon Torrence states, "The county roads manager let me know that all the locations have been filled and are ready for people to come to get bags and get ready for this winter weather." She adds that there is a limit of ten bags per household.
Below is the Calaveras County's sand bag locations list:
Arnold: Arnold Maintenance Yard, 1119 Linebaugh Rd. (Closes at 3:30pm)
Glencoe: Glencoe Maintenance Yard, 16151 Hwy 26 (Closes at 3:30pm)
Jenny Lind: Jenny Lind Yard 11558 Milton Rd. (Closes at 3:30pm)
Mountain Ranch: Mountain Ranch Community Park, Washington St.
Murphys: Murphys Fire Station, 37 Jones St.
Rancho Calaveras: Vista Del Lago Cul-de-sac near DuHamel Family Dentistry, 313 Vista Del Lago
San Andreas: San Andreas Rd Yard, 891 Mt Ranch Rd. (Closes at 3:30pm)
Valley Springs: Mangili Rd. Cul-de-sac at Valley Springs Sports and Fitness, 145 Mangili Rd.