Update: Power Restored In Calaveras County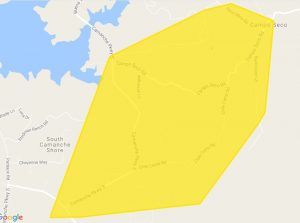 PG&E Valley Springs outage map

View Photos
Update at 2:50 p.m.: PG&E reports the lights are back on for 158 customers in the Valley Springs area east of Camanche Reservoir. The company did not release any details as to what caused the outage or whether it was weather related. Customers were without lights for about an hour and a half.
Original post at 2 p.m.: Valley Springs, CA — PG&E crews are investigating a power outage in the Valley Springs area that has left 158 customers in the dark on this soggy Friday.
The lights went out just before 1 p.m. along Camanche Parkway South, Penn Mine and Camp Seco roads on the east side of Camanche Reservoir. Crews are on the scene of the outage but there is no word if it is weather related. The company has given 4:30 p.m. as the estimated time of repair.