TUD Addressing Possible Twain Harte Disc Golf Course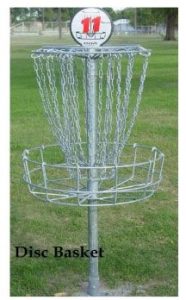 Sierra Pines Disc Golf Course Basket

View Photos
Twain Harte, CA — In a special meeting on November 1 the Tuolumne Utilities District (TUD) board will discuss the former Sierra Pines Golf Course Site in Twain Harte. The site is not currently organized for any use, ultimately TUD has plans to construct a regional water treatment plant there.
The Sonora 49er Rotary Club has partnered with Discs-n-Motion, an unincorporated club, and proposed to temporary use the site as a passive disc golf course. Both clubs state they will come together in planning and installing an 18-hole course and named Sierra Pines Disc Golf. Legally California allows publicly owned facilities to be utilized for things like disc golf, but the staff report notes it is recommended the Board decide after considering input from the public and neighbors to the site.
Disc Golf involves players throwing a disc (Frisbee) into an elevated metal basket. Much like golf, players progress from the "tee" to the basket made of chains called a "hole." The goal is to make the fewest number of throws, called putts, to get the disk into the hole under par.  The proposal currently states use of the course will be free, users bring their own discs, and the hours would be from dawn but not before 8AM until dusk or not after 9PM.
TUD representatives have met to discuss this potential use of the site for disc golf already. An operational statement, description and lease agreement have been created as part of the proposal for the meeting. The tenants, defined as both Sonora 49er Rotary Club and Discs-n-Motion, are being offered a three year term lease, terminable with 30 days notice by either party. Other terms of the lease include the tenants are responsible for maintaining the site, including garbage pick-up, portable restrooms, general liability insurance and to keep in harmony with neighbors, including observance of approved operational hours. The site is also not to be used for tournament play, or for any other purpose other than a disc golf course.
The Disc Golf Proposal includes adding parking which currently would be confined to the lot on South Fork Road, which holds 8-10 vehicles, and on street parking along South Fork Road and Quaker Lane. The club states, "while this is plenty of parking for the Sierra Pines Disc Golf Club users, with the extensive use by fishers, runners, dog walkers and other users of the site, parking can sometimes be tight." A proposed second gravel parking area has been identified at the site for 12 spaces and a portable toilet as seen in the photos and in a larger color map here and in black and white here.
Properties within 500 feet of the site have been sent an invitation to the Special Board Meeting. The public meeting will take place on November 1, 2016 at 6:30PM at the Twain Harte Community Center.