TCSO: Drug Dealers Busted In Sonora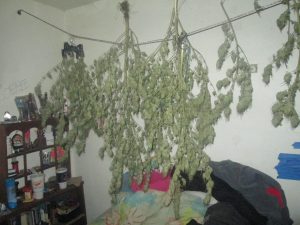 Drying Marijuana found in Sonora home

View Photos
Sonora, CA — Two Sonora residents were booked into Tuolumne County Jail following a routine traffic stop on Mono Way.
The Tuolumne County Sheriff's Office (TCSO) reports that the driver was 33-year-old Jesse Taylor and the passenger was 22-year-old Sabrina Williams. Inside the GMC SUV, which was pulled over for expired registration, was 10 grams of Methamphetamine dispersed in five baggies, several jars of concentrated cannabis, and additional packaging material. The pair admitted they had additional drugs at a home they share on Serrano Road. A probation search was conducted at the residence and deputies located two additional pounds of unprocessed marijuana, 13.3 grams of methamphetamine, digital scales and packaging material. Taylor and Williams were booked into Tuolumne County Jail.
Prior to entering the jail, Williams also admitted that she was hiding a bag of pills, which included methadone and alprazolam, and the drugs were turned over to the Sheriff's Office.