Fire Destroys East Sonora Duplex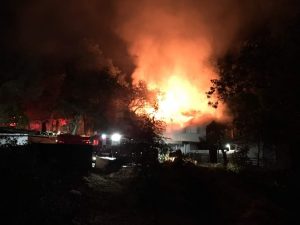 Duplex Fire on Mono Way in East Sonora

View Photos
East Sonora, CA — Firefighters remain on the scene of a duplex house fire that has left residents homeless.
Firefighters have been battling the blaze for nearly three hours. Cal Fire reports that flames were shooting out of the home when firefighters arrived in the 19700 block of  Mono Way near Jenness Road around 7:30 p.m. Sunday night. Cal Fire reports the fire did not spread to any other structures or vegetation.
The duplex is a total loss, according to Cal Fire. The Red Cross has been called in to help the displaced residents.
Cal Fire reports what sparked the blaze is under investigation. Fire crews have put out the flames but will remain on the scene mopping up for the next couple of hours.