Homecoming Loss And A Bye Week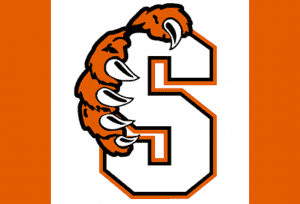 Summerville Bears logo

View Photos
Tuolumne, CA — A hard loss for Summerville as the Bullfrogs leaped over the Bears on their homecoming night in week 9 of the high school football season.
Homecoming 2016 was bittersweet this year for Summerville. There was no royal victory for the home crowd.  Besides a 37 yard field goal by Hunter Anderson, Summerville failed to score any more points in the 34-3 loss to Bret Harte. In fact the Bears didn't come near the red zone one time in the 2nd half.
Ryan Kraft sophomore quarterback of the Bullfrogs showed off his arm and his legs in his debut to this new era of rivalry in the Mother Lode League.  The biggest play of the game came when Kraft outran three bear defenders sailing 65-yards down the field into the end zone.  Summerville also turned the ball over six times and had little answers to stop the rushing attacking of the Frog's. Bret Harte is now one win away from clinching a playoff berth for the first time in years. Whereas Summerville will be in a must win situation out on the road against Calaveras and Amador. The Bears fall to a record of 4-4 and will take on the Calaveras next Friday.
After a bye week, Sonora returns to Dunlavy Field next Friday against Argonaut.
Calaveras lost to Amador 24 to 14.