Bike Bandit Rides Away On Non-profit's Raffle Prize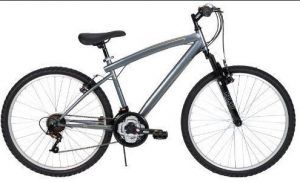 Huffy Rival 26 mens moutain bike

View Photos
Arnold, CA – A brand new bike was stolen from in front of the Calaveras Humane Society Thrift store in broad daylight.
The Arnold store is located in the busy Meadow Mount Shopping Center, next to the Big Trees Market. The bicycle was donated by the Arnold Ace Home Center. It is a gray Huffy Rival men's 26-inch mountain bike. A picture can be viewed in the upper left-hand image box. The bike, along with a propane barbeque, was to be raffled off on Saturday, October 22, in celebration of the store's 7th anniversary. Store Manager Teri Aspesi describes what she thinks happened, "The bike was outside with the raffle notice taped to it — right in front of our windows — and somewhere between 4 and 4:45 p.m., someone must have gotten on the bike and took off on it."
With regards to crime in the area, Aspesi indicates that a trash can and a dolly were stolen from the back of the store. She also says that some clothing has been taken from the sales rack in front of the store as well, but emphasized "never a big ticket item like this."  Saddened, Aspesi remarks, "I'm so disappointed for the people that participated…We were actually so jazzed about it because it was brand new and it was probably worth somewhere around $200 dollars…It's bad enough if they rip off a regular store but a non-profit! I mean, getting a donation like this is great. It could have brought us a lot of revenue."
The raffle tickets were being sold for $2 apiece. All those who purchased a one were notified of the theft. The store offered a refund or to put the ticket in the jar for the propane barbeque. Noting the generosity of the community, Aspesi cheerfully states, "Most people we called told us to put the money towards the barbeque or just keep it as a donation."
If anyone has any information regarding the bike theft please contact the store at (209)795-4483 OR the sheriff's department at (209)754-6500.
To view a letter posted to customers click here: Letter posted to Calaveras Humane Society Thrift Store customers