TUD Sewer Improvements Continue To Clog Traffic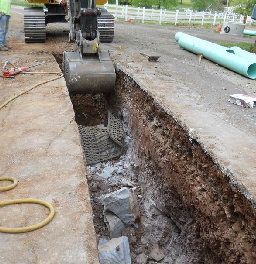 TUD sewer repairs

View Photos
Columbia, CA – Traffic continues to be slow going through the heart of Columbia as Tuolumne Utilities District (TUD) crews do sewer improvement work.
As reported here in September, the district hired Moyle Excavation, Inc. and began its Gold Springs Sewer Replacement Project along Parrotts Ferry Road. That work continues all next week between Green Street and Alice Grant Road. Motorists can expect traffic delays throughout the day as the work is being done each day from 7a.m. to 4 p.m. Most notable delays, up to 15 minutes, will be during the morning and evening commute.
The project will replace 5,510 linear feet of sewer force main and 963 linear feet of sewer gravity main along the east side of Parrotts Ferry Road, from North Gold Street to Marble Quarry Road, in Columbia. Much of the pipeline has been severely cracked due to heavy vehicle traffic, according to TUD. The project is expected to be completed in November; weather permitting, meaning motorists will face more flaggers periodically depending on the work and might want to find an alternative route if possible until then.