Burn To Help Vegetation Management in Hetch Hetchy Area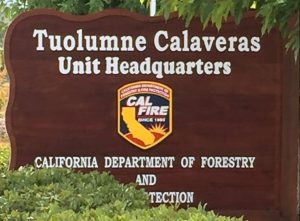 Cal Fire Tuolumne Calaveras Unit HQ sign

View Photos
Tuolumne County, CA — Smoke will be visible in the skies over Hetch Hetchy Thursday afternoon due to a prescribe burn.
Cal Fire crews will be igniting about 80 acres east of Highway 49 in the Hetch Hetchy Vegetation Management Program area. Deputy Chief Jeff Sanders offers, "We're going to probably do our test burn around noon and then start the actual burn around one o'clock up until about 6 p.m. Thursday evening."
Sanders adds that the blaze will benefit the watershed and provide protection from wildfire to the communities of Groveland, Big Oak Flat and Greeley Hill as well as enhance grazing for cattle.
Cal Fire maintains that this burn program is a 90 percent benefit for the State Responsibility Area and a 10 percent benefit to the nearby areas, stressing it will create a measurable impact to the fire threat.