Road To Close For Red Church Steeple Work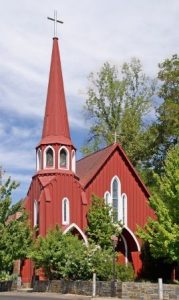 Sonora's historic landmark Red Church

View Photos
Sonora, CA — Heads up, downtown Sonora motorists. On Friday and Saturday part of the Y-intersection at the historic Red Church will partially close to enable steeple repairs.
According to the church's project contractor, John LaTorre, of Opposable Thumbs Construction, the closure is necessary for the placement of a boom lift, for which he needed and obtained an encroachment permit from the city. During the hours that steeple work is being done, LaTorre says the northbound lane of Snell Street next to the church will be closed.
This means northbound traffic will have to take North Washington Street and turn left behind the church on Wyckoff Street to access Snell Street, LaTorre explains. He adds that southbound traffic on Snell Street will have a clear lane through the repair times, which will run from 7 a.m. until 7 p.m. Friday, and 8 a.m. until 5 p.m. Saturday.
According to the contractor's original project plans, the work was supposed to have taken place last weekend but was postponed due to incoming stormy weather.