Following Major Injury Accident, Police Seek Hit-and-Run Driver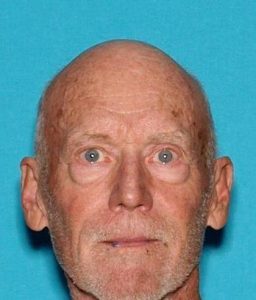 Louis Page, sought by Sonora Police for alleged felony hit-and-run.

View Photos
Sonora, CA — Law officials are asking the public's help in locating a Valley Springs man wanted for leaving the scene after allegedly hitting — and seriously injuring a pedestrian.
According to Sonora Police, emergency personnel responded to the intersection of North Washington and Elkin streets Monday morning in the nine o'clock hour and found that a Jamestown woman, 30-year-old Jessica Williams, had been hit while using the crosswalk there.
Police investigating the incident say as Williams was crossing Elkin Street  she was struck by a silver Honda sedan that was making a left turn from southbound North Washington Street. Witnesses reported that the male driver briefly stopped to ask the victim if she was all right — but then abruptly left when they discussed the need to contact law enforcement. The driver was later identified in a photo lineup by the witnesses as Louis Page, 76, with a listed address in Valley Springs.
Williams, who suffered major injuries, was initially taken to Sonora Regional Medical Center but later flown to a Modesto trauma center for further treatment.
As the case is now being investigated as a felony hit-and-run, anyone with information on Page's whereabouts is asked to call Sonora Police at 209 532-8141. Page's photo can be viewed in the left image box.