CCWD Warns Wilseyville Water Customers Of Planned Disruption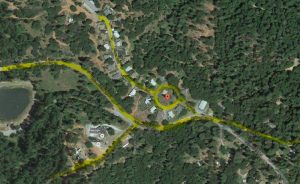 Wilseyville Service Interruption Map

View Photos
San Andreas, CA – Tuesday may well bring water to a trickle for Wilseyville customers during a planned service disruption by the Calaveras County Water District (CCWD).
According to CCWD spokesperson Joel Metzger, the work is necessary to replace a pressure tank that serves the Wilseyville town site and nearby areas. He adds that last Friday, CCWD staff placed notifications at the 60 or so properties where customers will be either without water or experience low pressure from approximately 8:30 a.m. to 3:30 p.m. Customers along the following roads should anticipate being without or with very limited water during the outage period: Railroad Flat and Blizzard Mine roads; also Tree Lane.
Metzger also points out that the outage is anticipated to impact a few businesses: among them the town's post office and the Wilseyville General Store, which may have to close deli operations for the day. He directs anyone with questions or concerns about the service interruption to call CCWD customer service at 209 754-3543.