Rainy Weather Brings Slick Roads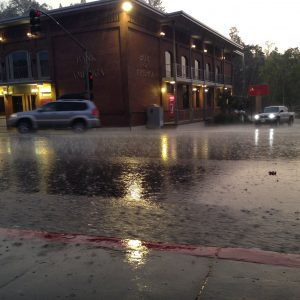 Rain In Sonora

View Photos
Sonora, CA — The CHP cautions motorists to slow down during this weekend's stormy weather hitting the Mother Lode.
The rainfall makes for hazardous driving conditions. Already, during Friday's evening commute, several fender benders have kept CHP officers busy. Luckily, there were no injuries in those crashes. However, with the inclement weather throughout the weekend, Sonora Unit CHP Officer Faustino Pulido cautions motorists to slow down, turn on their head lights and watch out for fallen debris on the roadways. He also stresses, "Speed is going to be the factor gets vehicles hydroplaning. So if it happens, take your foot off the accelerator, do not brake or turn suddenly and slow down."
Pulido adds that if you find standing water on the roadway do not try to drive through it.