Surprise For Voters In Calaveras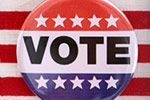 elections

View Photos
San Andreas, CA — With the mail-in ballots sent this week, Calaveras County's top election official wants to alert voters to something they might otherwise miss.
This year Calaveras County voters will find two ballot cards, instead of the one card that voters typically find in the mail.  Calaveras County elections official and clerk-recorder Rebecca Turner explains that if only one card is returned in the yellow envelope that is all that will get counted. Turner stresses, "We just want to make sure that everybody is aware that it's a really long ballot. There's several state ballots and in addition to county propositions. We don't want somebody to miss out voting because they didn't realize there were two ballot cards."
There are 17 state ballot measures and the two local propositions are related to marijuana taxation and use guidelines. Turner acknowledges the county measures have peaked the interest of the public and says her office has received a lot of questions on both. She believes that, and this being a presidential election year, is fueling the hike in the county's voter registration, adding, "Our current registration is roughly 28,500…a jump from the June election by nearly a thousand voters."
The last day to register for the November 8th General Election is October 24. The last day to request a vote by mail ballot is November 1st. Turner recommends that anyone who has not yet received their mail-in ballot to call her office at (209)754-6376 or click here.