Two With Ties To Marijuana Grow Arrested For Forged ID, LSD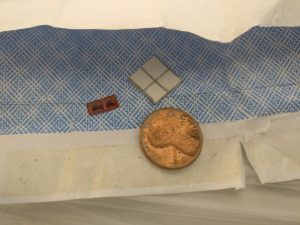 6 LSD tabs, Angels Camp Police, evidence photo, Oct 13, 2016

View Photos
Angels Camp, CA — A state Fish & Wildlife warden who smelled something was not right tapped police to conduct a traffic stop that turned up a forged ID card and drugs.
According to Angels Camp Police Chief Todd Fordahl, the stop was made Thursday morning in the nine o'clock hour near the intersection of N. Main Street and Dogtown Road. He reports that further investigation revealed that the vehicle's two occupants, both from Bend Ore., were in the area, working at a commercial marijuana cultivation site.
Police found one of them, Kori M. Coggins, 23, in possession of a forged identification card, which appeared to be from the state of Idaho. The other, Maxine P. Roach, 26, was discovered with LSD. The chief adds that Roach also had a handwritten time sheet showing a record of hours spent trimming marijuana plants.
Coggins was arrested and cited for the phony ID; Roach for possession of a controlled substance.