Caltrans Closing Hwy 49 In Angels Camp For Mark Twain Fest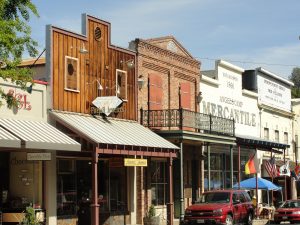 Downtown Angels Camp, January 2015

View Photos
Angels Camp, CA — Heads up, motorists planning travel on Highway 49 through Angels Camp on Saturday: you will be diverted due to an all-day rain or shine event being staged in the downtown Main Street area.
From 8 a.m. until 6 p.m., Caltrans will close Highway 49 between Murphys Grade and Vallecito roads for the Mark Twain Wild West Fest.
Detour signs will be placed directing northbound Highway 49 traffic onto Vallecito Road to westbound Highway 4 and northbound Highway 49. Southbound Highway 49 traffic will be routed around the downtown area from southbound Highway 49 onto Highway 4; then east to Vallecito Road, back to Highway 49.
In addition to the traffic workarounds, there will be no street parking in downtown Angels Camp from 8 a.m. until 6 p.m., although residents and businesses there will have limited street access and be advised to move their vehicles out of the area ahead of the event hours. Event attendees to the festival and evening concert at Utica Park are directed to park in either the Bret Harte High School parking lot or the Calaveras Fairgrounds parking fields, where free shuttles will be running from 9:30 am to 9:30 pm.