New Online Tool Provides Details, Backers Of All Ballot Measures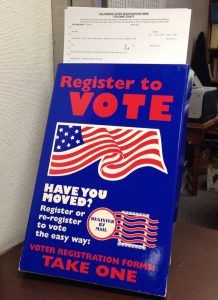 Register To Vote Sign

View Photos
Sacramento, CA – Ahead of Election Day next month, California voters now have a new tool to access key details about – and behind – each of the 17 measures on ballot.
Today, Secretary of State Alex Padilla announces there is a new online "quick guide" to the 17 statewide ballot propositions for Californians to peruse not only the measures but contributions each has received and by whom.
Within a few clicks voters are able to do a little self-research into the total donations and the ten largest contributions during the election cycle to both "Yes" and "No" campaigns for each measure; next to each, condensed overview information is also provided. Links are also available to further delve into the full details provided by the Secretary of State's Office, including complete text for each ballot measure and lists of every contribution made to every ballot measure committee.
"California voters have some big decisions to make in the weeks ahead," Padilla states, referring to the wide variety of issues covered by the proposed laws. These include the death penalty and prison reform; changes to income and tobacco taxes and prescription drug pricing; also, the potential legalization of recreational marijuana.
The open-source tool, "QuickGuidetoProps," is an extension of work done with MapLight and the Secretary of State's office to provide the public with quick and easy power search access to review source, recipient and dollar amounts of state-level campaign contributions to candidates as well as independent expenditures dating back to 2001. Funding for the project, developed to improve political transparency in California, was enabled through a James Irvine Foundation grant.
To access the new tool, click here.