Regional Strategy For Economic Development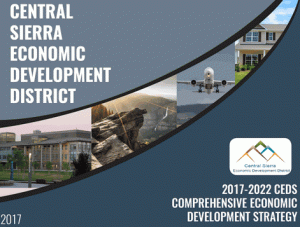 Central Sierra Economic Development District Comprehensive Economic Development Strategy

View Photos
Sonora, CA — The Central Sierra Economic Development District has released a new draft Comprehensive Economic Development Strategy to cover the years 2017-2022.
The district includes a four county region…Tuolume, Calaveras, Mariposa and Alpine. District Director Larry Cope, who is also Tuolumne County's Economic Development Authority Director, explains, "Every five years we need to update our comprehensive economic development strategy, so we have gone through a process, using both local and outside partners, to go through a SWOT analysis, which stands for 'strength, weaknesses, opportunities and threats.'"
The plan sets forth goals and objectives for the next five years.
There are eight key findings in the 63-page report:
1.      There is a lack of job opportunities in the region
2.      There is a shortage of skilled labor within the region
3.      Local zoning and permitting is hindering growth
4.      There are some counties not collecting TOT from AIRBNB type vacation rentals
5.      Infrastructure including broadband is lacking within the region
6.      Visitors services are inadequate and in wrong locations
7.      Educational resources are not being utilized
8.      One-day shipping is not available within the CSEDD region
The plan is currently going through a 30-day viewing and comment period which ends November 9. The CSEED has partnered with CSU Chico's Center for Economic Development to assist in the completion of the plan. It can be viewed by clicking here and scrolling down the page. Public comments can be directed to Michael Suplita at the Center for Economic Development at 530-898-4598 or by emailing msuplita@csuchico.edu.
CSEED was formed in 1976 as a Joint Powers Authority and established Economic Development District. There is representation on its board from the four earlier listed county government entities as well as the City of Sonora and City of Angels Camp.