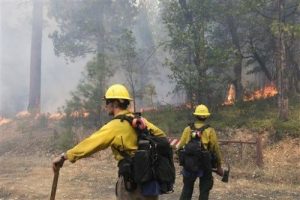 Forest Service Firefighters

View Photos
San Andreas, CA — Cal Fire will use real flames as a training tool during a fire drill in Tuolumne County this week.
A planned 80 acre fire will be used to teach fire line supervisors from around the state as a way to demonstrate the proper techniques to plan and carry out complex firing operations while battling a wild fire.  A key element of the exercise will be how to start a controlled fire outside the perimeter of spreading flames, which starves the wildfire of available vegetation, according to Cal Fire officials.
The training will be held at Sardella Ranch on Wards Ferry Road on Wednesday, October 12 to Thursday, October 13, with live burns running from 10 a.m. until 5 p.m. each day.   Resources will include five fire engines, two fire crews, and one bulldozer.
Cal Fire notes grass and oak understory will be burned in one to three acre parcels to reduce the amount of smoke.