Caltrans Says Bridge Renovation Contractor Sparked Jacksonville Fire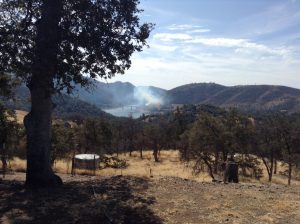 Fire Near Don Pedro Bridge

View Photos
Sonora, CA – It turns out that Monday's Jacksonville Fire by Lake Don Pedro has a direct connection to major renovations underway at the Highway 120 James E Roberts Bridge.
Caltrans contractor Golden State Bridge, Inc. is currently replacing the bridge decking as part of a major refurbishment. Recounting what happened, Caltrans District 10 spokesperson Skip Allum explains, "So it was a contractor's employee…doing work on the bridge…the reason why we have one-way traffic control in place there right now is to…cut and remove the bridge decks, and those have to be cut and removed in sections. So, while this person was using a metal cutting saw…to prepare and make it easier for removal, a spark came off…and the wind carried that spark and moved it off to the brush right alongside of the bridge there — and that is what initiated the brush fire."
Fire personnel worked overnight on the 11-acre incident, after CAL Fire reported getting forward spread arrested by around 1:40 p.m. As reported here, the blaze began shortly into the noon hour. By Monday evening, fire investigators had still not released a cause.
Addressing preventative best practices, moving forward, Allum states, "I do know that the contractor was reviewing their safety and fire protocol standards as a result of [the fire incident]. I do know they have their regularly scheduled safety meetings throughout the life of the project — but I do know they were holding a meeting today and reviewing all those — to ensure that all the guidelines and steps are being met, moving forward."