Mark Twain Wild West Fest In Angels Camp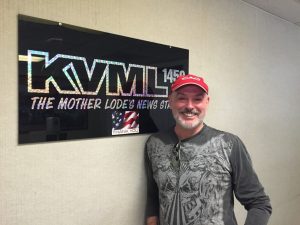 Christopher Buttner

View Photos
The first ever Mark Twain Wild West Fest will take place this Saturday, October 15, 2016, from 10 am to 9 pm, on Main Street in historic downtown Angels Camp.
Christopher Buttner, with the Angels Camp Commemorative Committee was Thursday's KVML "Newsmaker of the Day".
According to Buttner, the Mark Twain Wild West Fest promises to be a living interpretation and celebration of the 19th Century Wild West Gold Rush-era of the Sierra Nevada Mother Lode.
Featured are three stages of non-stop music, comedy and entertainment; roving street performers, magicians, jugglers, musicians, honky-tonk piano players and dance hall girls; beer, wine and food; gun-slinging cowboys and outlaws and shoot-out reenactments, as well as villains and damsels in distress; gold miners, their encampment and gold panning demonstrations; a flapjack breakfast; over 80 street vendors of all descriptions including arts and crafts, and a custom car show. The day is capped by a 4-hour evening live music and comedy concert and dancing under the stars in Utica Park. Admission and parking are free all day.
In addition, historical impersonators and re-enactors from great literary figures, entertainers and iconic personalities who made the American West great will be in attendance, including Mark Twain himself. Entertainment will also feature a children's storytelling workshop with Mark Twain, a Liar's Contest for adults, and other activities for adults and children of all ages.
The Mark Twain Wild West Fest is also offering raffle tickets for $10 each with the grand prize of a 4.68-ounce Gold Nugget valued at approximately $6,000.00. Raffle tickets may be purchased at the festival. Raffle ticket sales support of the production of the 2017 Mark Twain Wild West Fest.
Attendees are strongly encouraged to attend in costume… Wild West, Western, Gold Rush, Edwardian, Victorian, Gothic and even Steampunk attire of the era. Costume contests will be held throughout the day. In addition,the Manzanita Arts Emporium will host the Mark Twain Writer's Round-Up, Friday, October 14 and Sunday, October 16, 2016.
The Mark Twain Wild West Fest began as the Gold Rush Day in 2012 to honor the special milestones in Angels Camp history. In 2015, the event was cancelled due to the Butte Fire. As plans began in 2016, the Angels Camp Commemorative Committee realized not only did Mark Twain have a lasting influence on Angels Camp, where he found his voice and world-wide fame in the creation of his tale, The Celebrated Jumping Frog of Calaveras County, but there was much more history to be told through the creation of a more dramatic, expressive, expansive and immersive Sierra Nevada Mother Lode historical festival event.
Complimentary shuttle service will be provided from 9:30 am to 9:30 pm from the parking lots at the Bret Harte High School and the Calaveras County Fairgrounds.
For more information, log on to http://www.marktwainwildwestfest.com
The "Newsmaker of the Day" is heard every weekday morning at 6:45, 7:45 and 8:45 on AM 1450 and FM 102.7 KVML.