Update: Traffic Incident In Downtown Sonora Involves Powerlines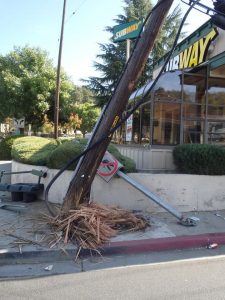 Power pole incident, S Washington St. and-Restano Way, Sonora Police Photo

View Photos
Update at 4:30 p.m.: Sonora Police share more about the downed power pole incident earlier today. They say that when a semi truck hit the pole, it sheared off at the base just above the sidewalk, and that the driver, who is from Texas, contacted the department.
Sonora Police also say that PG&E is hoping to have the needed repairs completed by Tuesday before 8 am., and that, for the safety of the public and PG&E crews, all roadway closures will remain in place until the repairs are completed. Currently, all lanes of S. Washington Street are closed between Restano Way and Hospital Road, with detours set up as indicated below.
Update: at 3:10 p.m.: Sonora Police report that workarounds are in place for traffic around the S. Washington St. and Restano Way intersection until PG&E is able to complete repairs to a downed power pole, which will probably be tomorrow morning.
Motorists may want to avoid the area altogether, if possible, although Sonora Police report that detour signage is in place. Currently, northbound traffic on S. Washington St. being diverted at Hospital Road. Southbound traffic heading towards Highway 108 must turn at Restano Way.
Update at 1:52 p.m.: Sonora Police confirm traffic tie-ups approaching S. Washington St. and Restano Way due to a downed power pole and say the waits are likely to continue until sometime Tuesday morning due to PG&E needing to continue through then with repairs.
Currently the intersection is closed and traffic is being diverted via Hospital Road. Sonora Police officials say that shortly there will be one lane open to traffic but that delays are likely to continue. Please use caution through the area and seek alternate routes.
Update at 11:12 a.m.: Sonora Police advise that the intersection of S. Washington St. and Restano Way has been temporarily closed to enable removal of a power pole hit there.
PG&E has not yet given an estimated time to make the necessary repairs, according to Sonora Police officials, who advise motorists to use Hospital Road or Stewart St. in the meantime. They add that the truck that hit the pole was located and an investigation as to how the incident occurred is underway.
Original Post at 10:33 a.m.: Sonora, CA —  A traffic incident in downtown Sonora at South Washington St. and Restano Way may impact traffic for a awhile as repairs are made to a power pole and traffic light.
At approximately 10 a.m. the CHP reported that a a big rig trailer hit a power pole with a stop light on it, which took the light out of commission. Although power lines are not across the road, motorists and pedestrians may want to use alternate routes that avoid the area, as units and PG&E respond to the scene.
According to the utility's outage map, only one customer seems to be affected, power-wise, at the moment. Lights have been flickering in the downtown area, intermittently. PG&E gave an estimated time of one hour to respond with a crew. We will pass along more information as it becomes available.