Lost Man Located By Search And Rescue Team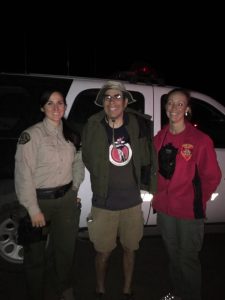 Martin Blanco surrounded by Deputy Boujikian and SAR Member Fox

View Photos
Sonora, CA — The Tuolumne County Search and Rescue team successfully located a man that got lost after going fishing near the South Fork of the Stanislaus River.
Martin Blanco ventured out this past Friday morning at 10:30am. He parked his car near the bridge on Italian Bar Road. Later in the day he went off the main trail and became lost. Prior to nightfall he called 911 to request assistance. Search and Rescue team members put together a plan on the assumption that Blanco was likely between the Stanislaus River and the PG&E flume below Lyons Reservoir.
SAR member Autumn Fox and Deputy Boujikian hiked from Lyons Reservoir, down the canyon, and toward the water. They were successfully able to locate Blanco. He had run out of water and only had a hat, swimsuit and shoes. He had to leave his fishing pole behind when it got stuck in a tree while hiking.
Blanco was very cold and had a low blood pressure. The women assisted him on the long hike back up the hill. They met up with other officials, and an awaiting ambulance, at 6am on Saturday. Blanco was cleared by medical staff and glad to be safe and warm.