SUV Flips and Crashes In Parking Lot Below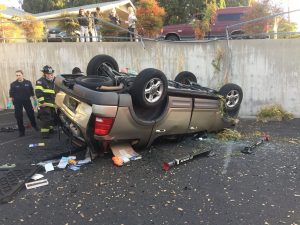 SUV accident W. Jackson Street in Sonora

View Photos
Sonora, CA – An elderly Sonora woman accidently stepped on the gas and sent her SUV sailing over a retaining wall into a parking lot below.
The wreck happened at 127 West Jackson Street in Sonora at a church parking lot around 7:30 a.m. Friday. Sonora Police report Elizabeth Loll, 85, had pulled into the lot and for unknown reason accelerated her Ford Explorer SUV. The vehicle flew off a retaining wall, overturned and landed on its roof in a lower parking lot.
Once emergency crews freed Loll from the SUV, she was transported to Sonora Regional Medical Center for minor injuries. Police report that neither alcohol nor drugs were a factor in the accident.7 October 2016, at approx. 7:40 am, emergency personnel responded to the area of 127 West Jackson Street for a vehicle accident. It was reported a vehicle had driven off an embankment, and a subject was trapped inside.