TUD Urges Conservation During Upcoming Ditch Outage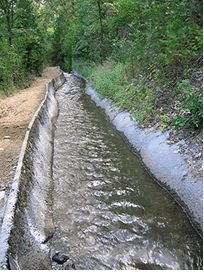 T.U.D. Ditch System

View Photos
Sonora, CA — Starting this Sunday, TUD is asking that customers conserve water for a couple of weeks.
Spokesperson Lisa Westbrook reports that PG&E will be conducting its annual maintenance of the main canal, which conveys 95% of TUD's water supply. Without water flowing in the ditches, the only water available is what remains in storage tanks and groundwater wells.
The ditch outage will run from October 9-17. Customers are asked to conserve during that period, and the week immediately afterwards for recovery.
Westbrook says customers should limit outside watering and consider turning off automatic lawn and drip sprinkler systems.