Early Voting Starts Next Week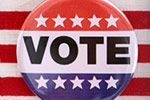 elections

View Photos
Sonora, CA — Vote-by-mail ballots will start going out Monday in anticipation of the November 8 General Election.
Tuolumne County Clerk and Auditor Controller Debi Bautista noted at today's Board of Supervisors meeting that the elections office at 2 S. Green Street will start offering early voting next Monday, and vote-by-mail ballots should start arriving by Tuesday, Wednesday or Thursday. You must be registered to vote by October 24 to take part in the November election.
Tuolumne County has over 30,300 registered voters. Breaking down the numbers, there are 13,126 Republicans, 9,617 Democrats, 5,813 with No Party Preference, 1,198 American Independent members, 274 Libertarians and 179 Green Party members.
Besides helping pick the next President…local voters will weigh in on US Senate, Congress, Assembly, special districts, ballot measures, school board seats and other races.