CHP Identifies Man Killed In New Priest Grade Crash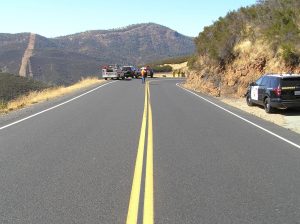 New Priest Grade Crash

View Photos
Groveland, CA — The CHP has released the name of man that tragically died Saturday afternoon after his 2004 Chevy pickup truck went 400 ft. down Highway 120 New Priest Grade.
The CHP reports that 59-year-old Billy Trabucco of Riverbank failed to negotiate a westbound curve while approaching Grizzly Road and went off the side. The victim was pinned inside and pronounced dead at the scene. The crash occurred around 10am. What exactly led him to lose control of the truck is still under investigation and autopsy results are pending.
New Priest Grade was briefly blocked Saturday morning due to the crash.