Alleged Robber On The Lam Sought By Deputies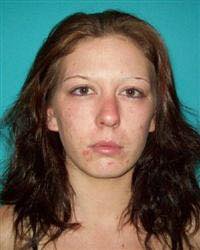 Chelsy Hogue, Wanted by TCSO

View Photos
Sonora, CA – Local law officials are seeking the public's assistance to locate a fugitive who escaped custody.
According to Tuolumne County Sheriff's spokesperson Sgt. Andrea Benson, Chelsy Hogue, a 22-year-old transient, is wanted for robbery, assault with a deadly weapon, criminal threats, possession of drug use paraphernalia, committing a felony while out on bail, and escape.
Hogan reportedly tangled with management and patrons at a Groveland clothing store after allegedly being seen trying to steal merchandise. Sgt. Benson reports that attempts to keep Hogan from leaving the store escalated into a physical fight. Although Hogue is said to have brandished a knife and made violent threats, she was overpowered and disarmed. Once arrested by an arriving deputy Hogue was handcuffed and placed into the back of a patrol vehicle but somehow was able to get away while the deputy was completing the investigation. Sgt. Benson adds that Hogue is also facing charges dating back to May for transportation and possession of methamphetamine for sale for which she was able to post bail and be released.
Anyone with information of Hogue's whereabouts is asked to call the Tuolumne County Sheriff's Office at 209 533-5815.