Burn Ban Remains Despite Possible Rains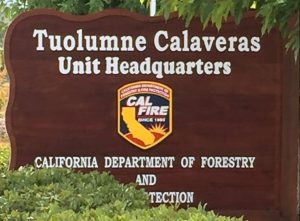 Cal Fire Tuolumne Calaveras Unit HQ sign

View Photos
San Andreas – Cal Fire wants to remind the public that just because rain is in the forecast for Sunday does not mean you can light up a burn pile.
Burning is still suspended in the Mother Lode. Cal Fire spokesperson Nancy Longmore explains that more rain is needed to thoroughly soak the ground before the restrictions can be lifted. She cautions, "In fact a week ago, when we got those few little dribbles of rain, people were lighting off their burn piles. The problem is they leave those burn piles, the sun comes out, the winds kick up and that innocent little burn pile turns into a wildfire."
Longmore notes that those caught burning on a "No Burn Day" can face significant fines especially if the flames escape and spread on to neighboring properties. While the burn ban is still in effect, remember you can always go to the myMotherlode.com homepage and check the current conditions box for burning information, which is updated daily.