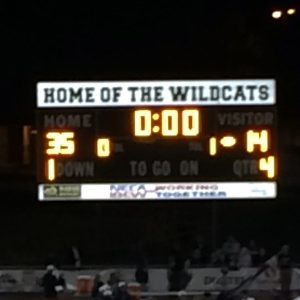 Sonora High School footbal scoreboard final on Homecoming night

View Photos
Sonora, CA — Homecoming victories and some hard hitting action taking place last night in week six of the high school football season.
For the second week in a row the Wildcats trailed in the 1st quarter against Amador on their Homecoming night.  Amador had a beautifully thrown football that hit speedster wide receiver Daylan Thetford in stride to go for a long touchdown and the Cats trailed at the end of the first period of play 7-0.
In the second quarter scoring picked up with Sonora putting together two nice drives ending with scores by Kane Rodgers from five yards out and Josh Harris from two yards out. Amador added a score between those touchdowns an 80-yard punt return for a TD tying up the game at half time.
Second half adjustments were made and the Cats forced a fumble early on in the 3rd quarter when Sophomore Evan Bearden, filling in for Killian Rosko at defensive end, rushed full speed and put a blindside hit on Amador quarterback Anthony Burns causing him to cough up the football which Nate Gookin scooped up. He rumbled 40-yards for a Wildcat score putting the Cats up 21-14. Riley Garret converted all of his PATS on the night and narrowly missed adding three points on a 39-yard field goal attempt from the left hash mark when his kick squeaked just to the left of the upright. Sonora added two scores in the 4th quarter with Bradley Canepa crushing a defender on a one yard rush and Kane Rodgers had a 29-yard scamper to score the last six for Sonora who scored 21 unanswered points in the second half to win their Homecoming game, 35-14.
Summerville started league play last night against the Linden Lions. Both the Bears and Linden started off very slowly, having troubles moving the ball down field. Summerville was able to strike first with a Luke Fulkerson touchdown run, his first of two. The Bears then struck deep on an Alex Prevost pass to Devin Conklin. Summerville jumped ahead 20-3 before the half, only giving up a 52-yard field goal to Linden's Maximo Rodriguez. Maximo's field goal would be the remaining points until the final one minute and fifty-eight seconds in the 4th quarter. Summerville's defense shut down the Lions in a game that they had lost last year. The final score, the Bears 34, Lions 9. Times have defiantly changed has Summerville advances to 4-1.
Next week, cross town rivals, Summerville and Sonora will hit the gridiron at Dunlavy field at 7 p.m.
The Bull Frogs also won on Homecoming night as they jumped over Winters 41 to 0. Calaveras beat Argonaut 28 to 21.
*Mark Ferriera and Brandon Steele contributed to this report