Drug Bust After Store Clerk Spots Suspicious Couple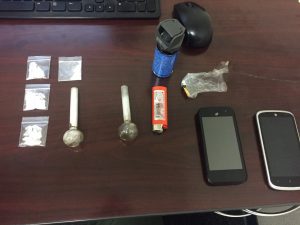 Drugs found

View Photos
Sonora, CA – A Sonora couple is arrested after a clerk recognized the pair for an alleged previous theft at the thrift store and alerts law enforcement.
An earlier report had been made related to a pool table being stolen from the Habitat for Humanity Thrift Store on Tuolumne Road. The clerk tipped off Tuolumne County Sheriff's Department that the suspected thieves were at the store just after 3 p.m. on Tuesday.
A deputy arrived on scene and approached the couple, Thomas Gray, 53, and girlfriend Amy Vermillion, 41. Gray is on probation for narcotics sales allowing for a search of his pickup.  Inside the truck, the deputy discovered nearly 6 grams of methamphetamine packaged for sale, drug paraphernalia and pepper spray. Gray also had $659 on him.
Gray and Vermillion face charges for possession of a controlled substance, possession of a controlled substance for sale, transportation of a controlled substance for sale, possession of controlled substance paraphernalia, criminal conspiracy and a person addicted to narcotic in possession of tear gas.
The initial furniture theft is still under investigation.