Sonora High Homecoming Parade Heads Downtown Friday Afternoon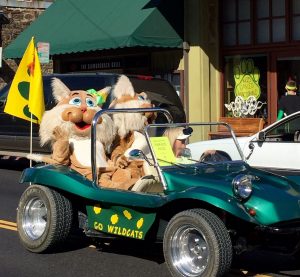 Sonora High Wildcats Mascots Homecoming Parade

View Photos
Sonora, CA — Come Friday afternoon Highway 49/South Washington St. through downtown Sonora will be filled with festive floats and flashing the green and gold spirit colors of the Sonora High Wildcats during the school's annual Homecoming Parade.
That means Caltrans will be closing the main drag through downtown Sonora to all traffic between Snell Street and Church Street from about 2:15 to 3 pm. In addition, School Street will be closed from around 1:30 to 2:15 for parade staging.
Those planning to be downtown will need to plan alternate routes. Posted signs indicate that there will be no parking allowed on Green Street between Yaney Street and Stockton Road during the parade.
The parade route runs from Sonora High School through School and Snell streets — then turns south down Washington Street. It will also hang right from Washington Street onto Stockton Road to wind over onto South Green Street before ending at Courthouse Park with a short performance by the Golden Regiment Band, which means that Green Street will be briefly closed between Bradford and Yaney streets.
Sonora Police ask the public to most definitely anticipate slow traffic and congestion — and remain patient as the event stages, runs through and winds down. For a few images of last year's parade, click the slideshow link in the upper left image box.