Update: October Begins With A Change In The Weather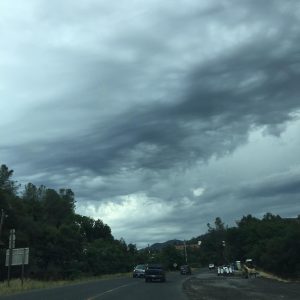 Clouds Visible From Highway 108 In Sonora

View Photos
October will arrive this Saturday along with a change in the weather.
A significant cooling trend is expected into the weekend, with periods of gusty winds as cold low pressure from the Gulf of Alaska approaches and moves through Northern California.
According to the National Weather Service, there will be periods of gusty winds today, which will increase the threat of fire, especially over the higher terrain.
Additionally, high temperatures are likely to be fifteen to twenty-five degrees below normal by Sunday. High temperatures in the Northern San Joaquin Valley will be in the sixties. High temperatures in the Mother Lode and the Sierra Nevada will range from the forties to the fifties. New records for the lowest high temperature are likely for Sunday October 2nd.
Widespread showers are expected on Sunday into early Monday. Isolated thunderstorms are possible in both the Central Valley and the Mother Lode on Sunday afternoon.
A few inches of snow accumulation is possible in the highest mountain elevations on Sunday.
Decreasing showers are expected on Monday.