Citizens Help Deputies Capture Chase Suspect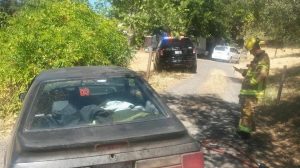 Mustang chase

View Photos
East Sonora, CA — A Sonora man was taken into custody hours after a high-speed chase as citizens step-in to assist in his arrest.
The incident took place on Mono Way at Standard Road when a Tuolumne County Sheriff's Deputy tried to pull over a Ford Mustang for expired registration on Sunday morning. The driver of the car took off but shortly afterwards smashed the vehicle into a fence and the two people inside jumped out and ran with the deputy giving chase. After about a quarter of a mile the deputy was told the car might be on fire, so he headed back to the crash site where smoke was pouring out from underneath the vehicle but it was not on fire. One of the suspects was identified as Justin Mendenhall, 30.
Later that day, calls came into the Sheriff's Office reporting that one of the suspects in the chase had run across Mono Way towards the AM/PM gas station and McDonald's restaurant. Upon arrival the same deputy spotted Mendenhall near the front of the fast food eatery. Mendenhall saw the deputy and ran towards the Tractor Supply with the deputy on his heels. Observing the foot chase, nearby citizens engaged Mendenhall and ordered him to the ground.
Mendenhall admitted he was in the car for the chase, but only as a passenger. However, he would not tell the deputy who was driving the car. When asked why they ran, Mendenhall stated that they did not want to go to prison.
Mendenhall faces charges of obstructing or resisting a peace officer and conspiracy to commit a crime. He also has two warrants of failing to appear in court on a violation of probation and theft. The other suspect is still being sought.