Update: Crash On Highway 4 Resulted In Fatality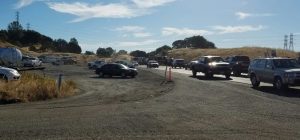 Slow Traffic Due To Highway 4 Crash

View Photos
Update at 5:15 p.m.: The CHP reports Linda Bowser, 69, died in the crash involving three-vehicles on Highway 4 in the Copperopolis area.
The wreck happened around 7 a.m. east of Horseshoe Lane. The CHP reports Bowser in a 1995 Dodge van heading eastbound failed to see a 1991 Freightliner truck driven by Craig Ingersoll, 44, of Copperopolis stopped for construction. The van plowed into the back of the truck. Then a 1994 Isuzu Trooper SUV driven by Ronald Mendoca, 51, of North Highlands smashed into the van. Bowser sustained fatal injuries in the collision. Ingersoll and Mendoca were not injured. Officer Toby Butzler indicates that Bowser must not have seen the back of the truck as there was no skid or brake marks on the pavement.
The highway was blocked initially and then officers directed one-way traffic control for nearly three hours. Butzler says the collision is still under investigation but neither drugs alcohol are not suspect to be a factor in the crash.
Update at 9am: The CHP reports that there will traffic control in the area for an extended period this morning. Be prepared for traffic delays. There is no additional information regarding injuries related to the incident.
Original story posted at 7:45am: Sonora, CA — The CHP reports that an eastbound traffic lane is closed on Highway 4 due to a three vehicle accident, and an ambulance is responding to the scene.
The crash occurred at around 7:15am on Highway 4 near Horseshoe lane in the Copperopolis area. The CHP reports that the incident involves a van, water truck and a third vehicle. Travel with caution in the area and be prepared for a delay.