Busy Times At The Tuolumne County Arts Alliance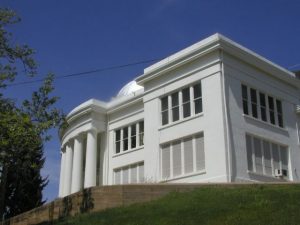 Sonora Dome

View Photos
The Tuolumne County Arts Alliance will be very active over the next few weeks.
Connie O'Connor, Executive Director for the Arts Alliance was Friday's KVML "Newsmaker of the Day".
This Saturday night at Coffill Park in Downtown Sonora there will be a Fiesta dinner catered by Mi Pueblo at 5 pm that includes music, prizes, salsa and fanfare in order to celebrate the birth of KAAD-LP and raise funds for its development. Tickets are $35 each and are available by calling (209) 532-ARTS.
KAAD-LP will feature arts and cultural programming and will be run by a group of volunteers. It is scheduled to commence by November 1st, 2016 on 103.5 FM.
On Saturday October 1st, the highly anticipated 'Handmade Parade' will take place on Main Street in Jamestown.
According to O'Conner, this will be a collective art experience that no one will soon forget. The Handmade Parade is a parade for anyone that wants to celebrate creativity and diversity in a non-political activity that fosters community involvement and creative expression. Described as a "walking theatrical performance", the parade will also glow after dark.
Anyone is invited to register themselves, their family, or their group as a participant and build a small float, prop, or costume. The only 'rules' are: no live animals, no written words, logos, or motorized vehicles (motorized wheelchairs acceptable) and all parade participants are required to be in costume.
The attendance is free. To participate in the parade there is a nominal fee for:
● Individuals———-$5.00
● Families————-$10.00
● School Groups—–FREE!
● Groups & Organizations—–$25.00
● Businesses———$50.00
To encourage other non-profits to participate, the Arts Alliance will waive the entry fee.
Festivities will begin at Rocca Park with handmade goods and entertainment at 3:00 PM. The Parade itself begins at 6:00. You can sign up on the day of the parade from 3:00 to 4:00. If you are preregistered, you may check in by 4:30. Participants will assemble by 6:00 PM.
The route is walking once down Main St. from Willow to Donavan, then return from Wilson Real Estate parking lot to Rocca Park in Jamestown. The return walk will be illuminated by LED lights.
Finally, the final "First Friday Jamestown Art Walk~Wine~Dine & Music Event" of 2016 will take place on Friday October 7th. The First Friday event was created by the Tuolumne County Arts Alliance to create a sense of community vitality and economic development in Jamestown through the arts.
The combination of matching-up local artists, local musicians with the established retail, hospitality and merchant community of Jamestown is the focus of this TCAA event. Featured monthly music groups will perform in the Gazebo in Rocca Park and individual musicians and other groups will also be performing on Main Street and in other shops and hotels on the First Friday evening event. The hours are from 5 to 7 pm.
The "Newsmaker of the Day" is heard every weekday morning at 6:45, 7:45 and 8:45 on AM 1450 and FM 102.7 KVML.