Family Ask For Public's Help To Find Teen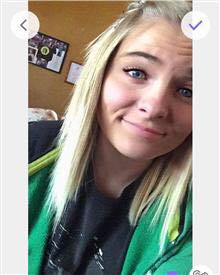 Kailey McCoy

View Photos
Sonora, CA – Tuolumne County Sheriff's officials report a 17-year-old Sonora female has not been seen since Monday and the public's help is needed.
Kailey McCoy's mother reported her as a runaway to the sheriff's department. She was at her Grandparent's home on Boitano Road N. in Groveland Monday at 8 p.m. While her family has not seen her since then, they have received text messages presumably from Kailey, which state that she is safe and has runaway. Sheriff's officials believe McCoy is either in the Groveland area or Mariposa County staying with friends.
The sheriff department has released this description of McCoy. She has blonde hair and blue eyes, 5'2″ weighting 132 pounds. Her picture is in the upper left-hand image box.
Anyone who may see or know of McCoy's whereabouts is asked to contact the Tuolumne County Sheriff's Office at 209-533-5815.