Major Bust Shuts Down Heroin House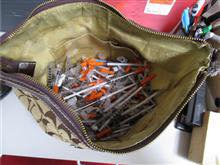 Needles found at Jamestown drug house

View Photos
Jamestown, CA — Calling it a "drug house," Tuolumne County Sheriff's officials report a woman arrested in the bust admitted to selling drugs from the home for the past two years.
Sheriff's officials revealed a tip related to heroin sales led deputies to the home on Mill Villa Road in Jamestown on Sunday, September 19th. Once on scene, deputies learned that Samuel Batson, 41, of Oakdale was one of four people in the home and he was on searchable probation allowing for them to enter the house. Inside were also the home owner's Jolie Esposito, 47, and Sean McIntyre, 54, along with a 16-year-old male.  During questioning, surprisingly, Esposito not only admitted to being in possession of heroin and methamphetamine, but to doing drug runs to the valley every other day in order to sell drugs from the home. She also, admitted to acquiring methamphetamine to trade for other items.
Esposito and McIntyre were arrested for running a drug house and for criminal conspiracy. Esposito faces additional charges of sales, transportation and furnishing of heroin and methamphetamine. Batson was taken into custody for a parolee visiting a known drug house. The teenager had a probation warrant and deputies found a methamphetamine pipe on him. He was turned over to the Tuolumne County Probation Department.
Several drugs were found in the house, including 3.11 grams of heroin packaged for sales, .04 grams of methamphetamine and over 250 hypodermic needles, which can be viewed in the upper left-hand image box.
Sgt. Moss emphasized, "We've seen an increase in heroin overdoses and people arrested for possession of the drug in the county so, this is a significant bust."