Coastal Wildfire Most Expensive Ever To Fight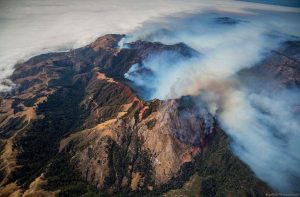 Soberanes Fire

View Photos
The cost to battle the Soberanes Fire in Monterey County has been much higher than incidents such as the 2013 Rim Fire and 2015 Butte Fire.
The National Interagency Fire Center stated Monday that the cost to fight the blaze is up to $206.7-million, notably higher than the previous national record of $165-million to fight the 2002 Biscuit Fire that burned in northern California and southern Oregon. The 2013 Rim Fire in Tuolumne County cost an estimated $127-million to fight and the 2015 Butte Fire in Calaveras and Amador counties was $90-million.
The figures do not take into account the damage accrued from those fires, just the amount of money needed for firefighting resources and emergency response. The Soberanes Fire was ignited by an illegal campfire on July 22nd and has burned 117,656 acres. It is considered 67% contained. Full containment is anticipated by September 30. At one point over 5,700 firefighters were assigned to the incident, and there are now currently 2,021.