Update: Sonora Walmart Re-opened After Power Outage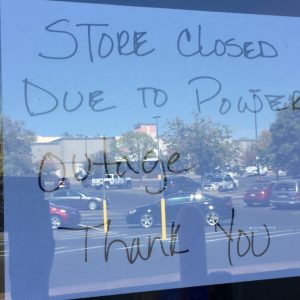 Note to customer on doors of store
Update at 4:15 p.m.: The store is now reopened. For further details on the outage see below.
Update 3:30 p.m.: Sonora's Walmart will re-open in about an hour and a half after a blown panel keeps its doors closed to customers for more than 14 hours. Walmart corporate spokesperson Charles Crowson disclosed more details related to the power outage. He indicates, "This was a scheduled power outage that began last night. As part of the remodel, when they were putting everything back on line there was a problem with one of the panels. They have repaired that and the store will re-open around 4:15 p.m."
Update at 1:20 p.m.:  Walmart's Public Relations Office has replied to Clarke Broadcasting's email stating, "We've received your inquiry and are working to fulfill your request. We strive to return media calls within one business day."
Original post at 1:09 p.m.: Sonora, CA — Clerks are in the parking lot of Sonora's Walmart store this Saturday telling customers the store has been shut down after a transformer blew.
Anyone calling the store will get a continuous busy signal or ring. A co-manager told Clarke Broadcasting that around 10:30 p.m. Friday construction workers threw the switch to connect the power from the new grocery addition to the entire store and a fuse went out.  He notes that a generator is enroute and they anticipated that the store could reopen sometime after 3 p.m. Saturday. He stresses that it could be later, however, if the outage damaged the store's computer system. The best bet may be to check at the stores website for notification the retailer has reopened.
Clarke Broadcasting emailed Walmart's corporate offices but at this posting had no received any response.