Traffic Alert: Road Closure In Calaveras County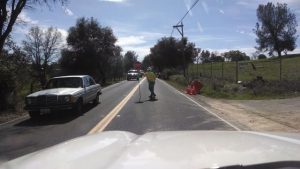 Road work

View Photos
Mokelumne Hill, CA — A section of Jesus Maria Road will be closed for two days next week in Mokelumne Hill during the morning and part of the evening commute.
The county's road department will be doing grinding and re-paving along the roadway between Hawver Ranch and Whiskey Slide roads. The work will begin at 8 a.m. and run until 3:30 p.m. on Tuesday and Wednesday, September 20 and 21. Flaggers will be directing traffic and detours sign will be posted.
Residents living in the area are asked not to park vehicles in the work zone. Department officials note the repairs being conducted as part of a Road Reconstruction Project within the Calaveras County Right of Way.
Motorists may face possible short delays of about five minutes and are asked to use caution in the area of flaggers.