Update: Two Sonora Women Suffer Serious Injuries After Being Hit by Vehicle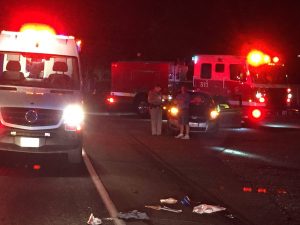 Crash On Highway 108 Near Main Street In Jamestown

View Photos
Update at 6 p.m.: The two women, Macie Riker, 46, and Shantel Crook, 33, from Sonora, were struck by a car as they crossed Highway 108 south of Rawhide Road around 8:15 p.m. Tuesday in Jamestown. CHP Officer Ken Bruce reports Kenneth McLaughlin, 55, of Jamestown was heading north on the highway traveling at about 35 to 40 MPH. McLaughlin stated that he saw the pedestrians coming from the eastside of the road at the last moment and hit his brakes, but was unable to stop. He struck both women sending them airborne and into the windshield. Both victims sustained major injuries and were taken by ambulance to Sonora Regional Medical Center. The CHP notes that Riker had lacerations to her head, face and arms and Crook had broken legs, cuts and internal injuries. Crook's was later flown to Doctors Medical Center for further treatment, according to the CHP.  Mclaughlin was uninjured. Bruce indicated that alcohol may have played a role in the crash as the two pedestrians had been drinking.
Original post at 7:11 a.m.: Jamestown, CA — There was a significant vehicle accident on Highway 108 near downtown Jamestown at 8:15pm yesterday.
The CHP reports that a vehicle hit two pedestrians resulting in major injuries. No further details have been immediately released at this time, including the names of those involved. We'll pass along more information when it becomes available.