Movie Filmed In Tuolumne County Premieres This Friday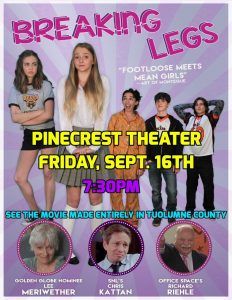 Breaking Legs

View Photos
A movie that was filmed entirely in Tuolumne County, will premiere at the Pinecrest Theater this Friday night at 7:30 PM.
Mark Marchillo, the Director, Writer, Choreographer and Actor in "Breaking Legs" was Wednesday's KVML "Newsmaker of the Day".
Marchillo grew up in Twain Harte and is a graduate of Summmerville High School.
"As I was writing the script for this movie, I envisioned filming it at Summerville," said Marchillo. "However, the setting in the film itself is never really identified and it could take place in any town, USA."
"Breaking Legs," is best described as a High School Dance movie that is rated PG. One review describes it is "Footloose" meets "Mean Girls".
Marchillo lives in the greater Los Angeles area today. The movie was filmed over a nine day period in December 2014.
The largest challenge for Marchillo and the crew involved the weather. "Everyone kept saying that Tuolumne County was in the middle of a large drought. However, it probably rained every single day that we needed to film. We had a lot of outdoor scenes and the conditions were both wet and cold."
A few veteran stars of the movie include Lee Meriwether, Richard Reihle and Chris Kataan (of Saturday Night Live).
Marchillo said that the 100% of the movie was filmed in about four locations throughout Tuolumne County including Tuolumne City, Cedar Ridge and on the campus of Summerville High School.
"We probably used over one hundred locals as extras," said Marchillo. "We felt that we had tremendous support from the entire community."
The premiere of "Breaking Legs will take place at the outdoor Pinecrest Theater on Friday September 16 at 7:30 pm. As a gift to the local public, UFO Pictures is making this premiere a completely free event. Marchillo will be at the screening to introduce the film and talk a little bit about what took place behind the scenes.
The "Newsmaker of the Day" is heard every weekday morning at 6:45, 7:45 and 8:45 on AM 1450 and FM 102.7 KVML.