Update: Old Fire, Burning Near Pilot Peak Now 75 Acres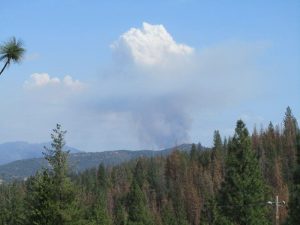 Old Fire

View Photos
Update at 7:25pm: The US Forest Service reports that the Old Fire Burning in the Stanislaus National Forest is up to 75 acres and crews will be committed for an extended period. The fire ignited during the two o'clock hour  this afternoon between Buck Meadows and El Portal, approximately five miles from Pilot Peak. There are five structures situated within 300 ft. of the fire's edge, but the Forest Service reports that thankfully the fire is moving away from them. There is no containment on the blaze and what ignited the fire remains under investigation.
Update at 5:15 p.m.: Stanislaus Forest officials say the Old Fire, burning near Pilot Peak between Buck Meadows and El Portal has grown to 50 acres.
Describing the blaze, spokesperson Clare Long states, "It is so smoky that we haven't been able to see it from below and we haven't been able to see it with aircraft from above." Planning to call in more resources, she reports that there are currently three helicopters. "We have ten engines coming in. We have three hotshot crews coming in later tonight and we have two bulldozers trying to work their way out and around."
Long states that the fire is burning in a very brushy, "very-very thick area," dense with beetle-killed trees. "The issue with beetle-killed trees is that they burn more intense and they burn faster," she remarks. She adds that due to all the the fire-spotting in the stands of dead trees that fire personnel are hoping that, with the cooling temperatures overnight, the fire might set down enough so that a better view of the fire's size will be possible.
No structures are considered threatened at this time as the fire is in a remote area.
Update at 3:26 p.m.: Columbia airbase resources remain along with other air and ground resources that are battling the Old Fire, located about five miles from Pilot Peak. According to Stanislaus National Forest spokesperson Clare Long.
Long states that while there is no update to provide on the fire conditions, she learned that the blaze was given its name due to its relative proximity to Old Yosemite Highway, adding that the name Yosemite Fire was already used.
Resources on-scene include one Air Attack; two helicopters; a lead plane; six tankers; six engines; one water tanker; one 'dozer and one investigator.
Originally reported at 2:40 p.m.: Stanislaus National Forest, CA — Stanislaus National Forest officials say that significant air and ground resources are arriving to help respond to a wildfire that sparked around 2 p.m. in the McCauley Ranch area between Buck Meadows and El Portal, about five miles form Pilot Peak. It has been dubbed the Old Fire. It is currently estimated at 30 to 35 acres in size, moving at a moderate rate of spread with some isolated torching in a stand of dead trees. We will bring you more details as they become available.