Downtown Sonora Jewelry Store Burglarized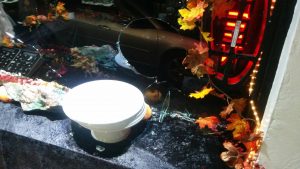 Sonora Police shares image of jewelry store break-in through front window, Sept. 13, 2016

View Photos
Sonora, CA — The Sonora police are looking for leads in what is being characterized as a "smash and grab" burglary that happened early Tuesday.
According to Police Chief Mark Stinson the incident occurred at Jewelry Design Store, located at 94 South Washington St. He reports that around 5 a.m. two joggers alerted officers about an alarm sounding in the neighborhood.
"When officers arrived, they noticed a rock had been thrown through the front glass window of the business. After breaking the window, the responsible reached through the hole in the window," Stinson states. In all, two trays were removed containing approximately $9,200 worth of jewelry; specifically, 58 tungsten rings, valued at at $150 each; also five tungsten bracelets, valued at $100 apiece.
The Sonora Police Dept. requests that anyone with information regarding the incident to please call them at 209 532-8141.