Repaired Butte Fire-damaged Ballpark Rededicated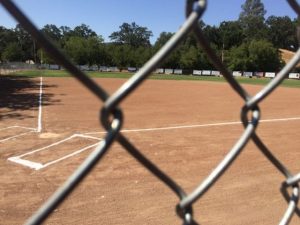 Phil D. Alberts Baseball Field Officially Reopens, Sept. 10, 2016

View Photos
Mountain Ranch, CA — Heavily damaged in the wake of last September's deadly wildfire disaster, considered by CAL Fire to be one of the state's worst, a local playing field that had become unsafe to use reopened over the weekend, just over a year after the fire broke out.
On Saturday afternoon Mountain Ranch residents celebrated the return of the Phil D. Alberts Baseball Field, a community mainstay since it first opened in 1979 until it was needed as a staging area for emergency vehicles and other necessary equipment used to fight the blaze and subsequently restore the area. The work, which was done by volunteers, was funded with the help of a $10,000 grant from State Farm Insurance.
Company representatives were among the many officials who spent significant time working with Butte Fire survivors who had lost homes and other property. State Farm officials, in mentioning the donation towards the ballpark's refurbishment, say it is part of their corporate philosophy to be a good neighbor and give back to the communities where they live and work.
The Butte Fire ignited on September 9, 2015 and burned 70,868 acres.
(To view images of the rededicated park, click the slideshow link in the upper left image box.)