Week Three High School Football Scoreboard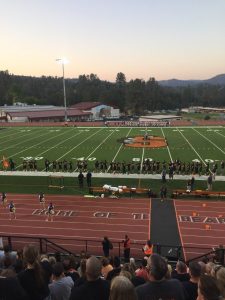 Summerville High vs. Bradshaw Christian

View Photos
Sonora, CA — In a game that is always tightly contested, the Summerville Bears and Bradshaw Christian Pride faced off under the lights at the new Thorstead Field.
The game was a stall mate in the first quarter, when returning quarterback Gabe Walker tossed the ball to last week's Quarterback Alex Prevost who threw a 54-yard bomb for a Bears touchdown. From that point, however, the Bears struggled. Bradshaw Christian running backs Gerrert Robbins and Mateo Broomstead both rushed for a pair of touchdowns. The Pride defeat the Bears 42-14. Summerville is now 2-1 will play Hughson next week at home.
The Sonora Wildcats continued their winning streak Friday night at Dunlavy Field. Sonora won big scoring touchdowns on the first four possessions, outpacing the Ripon Indians 69-7.
Bradley Canepa punched the first score in from 2 yards out. On the next  Sonora possession quarterback Josh Harris went up the middle for a beautiful 85 yard touchdown run. Harris would later score again in the second quarter on a 15 yard scamper.
Nate Gookin added the third score with a 26 yard run and Kane Rodgers punched in a two yard score to finish the offensive scoring for Sonora in the first half.
Gino Bergamaschi had a 35 yard interception return for a touchdown in the first quarter. Gino would score again in the 3rd quarter on a 30 yard reception on a toss from Harris that caught Bergamaschi in stride.
The Wildcat defense kept Ripon contained all night. Pressure up the middle from the linebackers kept Ripon off balance and the Wildcats were able to keep the Ripon rushers moving laterally so that Sonora could rally to the ball.
In the past two games the Wildcats have scored 131 points and only given up 22. Next week Sonora travels to the Cental Valley to take on the Hilmar High Yellow Jackets at 7pm.
In other action, Bret Harte defeated Golden Sierra 27-6 and Calaveras defeated Modesto Christian 35-28.
*Brandon Steele and Mark Ferriera contributed to this report