Butte Fire's One Year Anniversary, Pieces Project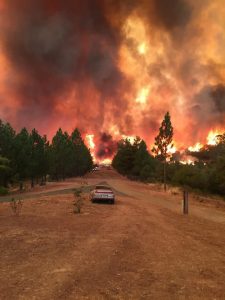 Butte Fire, from a firefighter's perspective, according to wife Michelle Gonzalez

View Photos
It was one year ago on September 10th, that the Butte Fire jumped the county line from Amador into Calaveras County.
Kathy Mazzaferro, Calaveras Arts Council Executive Director, was Thursday's KVML "Newsmaker of the Day".
Pieces, a community healing art project will be unveiled at the Mountain Ranch Community Park in Mountain Ranch this Saturday at 10:00 am.
The unveiling will include music and readings. The Pieces Memorial Wall, built by Robin Modlin and Anne Cook, was supported by the Calaveras Arts Council and received major funding from the Calaveras Community Foundation.
The Pieces Project is a wall estimated to be around six feet long, four feet high and about two feet thick. It is constructed of cinder blocks and convered with stucco and grout. This allows mosaics to be built and placed upon the wall using pieces of items that were found in the aftermath of the Butte Fire.
Modlin sought permission and was allowed to go through numerous burned properties that were destroyed in the Butte Fire. In the ashes, Modlin found pieces of rubble that consisted of pottery, crockery, coins, glass, marbles and other items.
The purpose of the Pieces Project is to remind Calaveras residents that "Out of the ashes, we remember and rebuild."
Mazzaferro stated, "There will be a wrought iron bench in front of the project, where people will be encouraged to come meditate and find ways to heal and come to peace with what happened."
The Calaveras Arts Council in San Andreas has been displaying the photography, writings and the "Pieces Vignettes" inspired from the ashes of the Butte Fire. In addition, "History from the Ashes", a pictorial record of the historical sites affected is presented this month. The show runs through September.
"To view these exhibits is to experience the poignancy of loss and feel the sense of a new identity," said Mazzaferro.
For information call (209) 754-1774
The "Newsmaker of the Day" is heard every weekday morning on AM 1450 KVML and FM 102.7 KVML at 6:45, 7:45 and 8:45 AM.