Butte Fire Burn Scar Monitors To Protect Tribal, Mining Artifacts, Frogs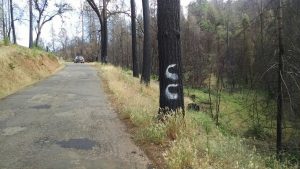 Calaveras County trees marked for removal

View Photos
San Andreas, CA — Phase Two of Butte Fire clean up efforts is in a temporary stall over monitoring requirements being mandated to meet federal funding requirements.
It was just over a month ago that the Calaveras County supervisors approved a hefty $9.8 million contract with Knoxville, Tennessee-based Phillips & Jordan, a heavy civil engineering contractor that specializes in disaster cleanup, to remove the 8,300-plus already tagged dead and dying trees along public roadways within the Butte Fire footprint that were determined to pose danger for motorists.
However, work to remove the hazard trees is being delayed by three red flag items identified in a Federal Emergency Managements Public Assistance (FEMA) report, according to county officials.
As it turns out, the county now must, under the National Environmental Policy Act (NEPA) for FEMA and California Disaster Assistance Act (CDAA) funding requirements, ensure that monitoring measures are in place protecting cultural and historic evidence and activities pertaining both to native Mi-Wuk tribal and mining within the burn scar. Additionally, as Calaveras County is a native habitat of the endangered California Red-legged Frog, monitors are also necessary to assure that no frogs or eggs are impacted during tree felling and debris removal.
Lining Up Specialists To Monitor ID'd Concerns 
"FEMA required that the EPA come out and monitor what they know to be specific areas [within the Butte Fire footprint] where they know to be artifacts or frogs or cultural items," explains county spokesperson Sharon Torrence. "They are in the process now of hiring people who are specific to those areas [of specialty]. Then, when they know that they are going to be at a site where there is potential…those people are going to be scheduled to go with the crews."
County staff is now working with FEMA's environmental staff to incorporate the required monitoring into the tree removal plan, Torrence says, so that the actual work should begin before the end of the month. "Once we get going I don't think it will take too awfully long, maybe four to six weeks. Sites are already identified where trees and brush are going to be taken," she maintains. Included as part of the contractor's work scope is to haul away trees and debris that PG&E crews have already felled.
While Torrence maintains that right-of-entry forms from impacted property owners are coming in at a good clip, those who have not yet returned their signed forms are advised to do so as soon as possible. Otherwise, "If trees from their property fall on someone or on the roadway and damage something, they [will] be liable," she warns. Under the county's arrangement with the contractor owners may retain debris for personal use, such as firewood or mulch; however none may personally profit monetarily from any related timber harvesting as salvage values go back into the tree removal program funding pot.
Torrence additionally gives locals a heads up about the impending tree work. "There will be times when there will be some traffic delays," she states. She quickly adds, with a chuckle, "But we will let people know in advance of that."